Orange and Blue Ball
On Saturday, November 7th, 2015, The dg Foundation hosted the Orange and Blue Ball fundraiser at the beautiful Castello di Amorosa, in Napa Valley. The dg Foundation and it's board of directors wants to thank all of our attendees and generous and supportive sponsors who made The Orange and Blue Ball fundraiser at the Castello Di Amorosa in Napa Valley a magical night, and a complete success. This wonderful event in honor of Dino and Nancy Ghilotti will help fund scholarships to students, athletes, and artists to follow their dreams at San Domenico Grammar School, Marin Catholic High School, the University of Miami, and also improve and renovate art facilities across the nation. It is your generosity and support that will make a difference in the lives of students who are passionate for academics, athletics and arts.
Below is a link to a video that was shown the night of the event. Enjoy!
http://www.noltemedia.com/dgf.html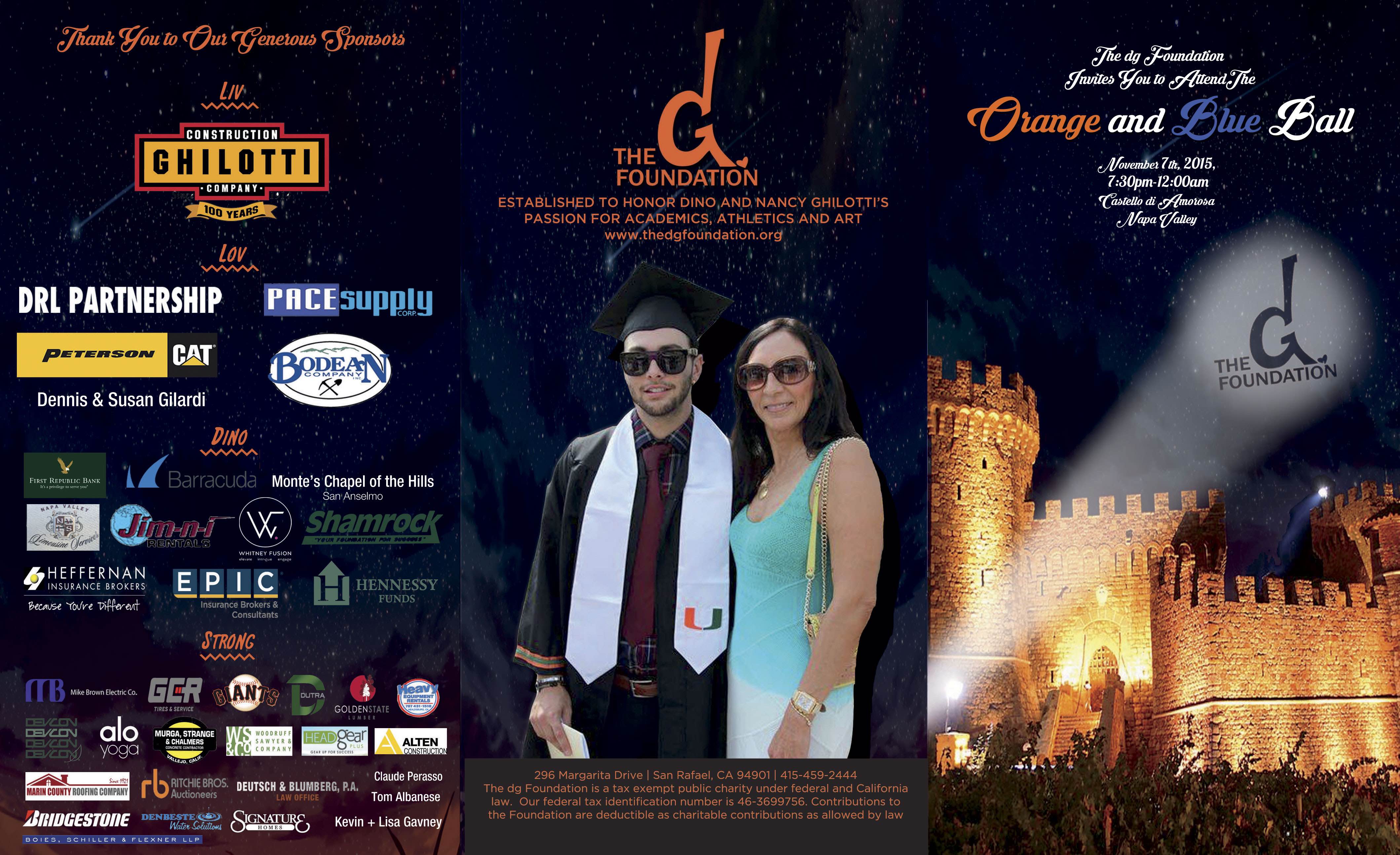 The dg Foundation is a non-profit organization founded in honor of Dino Richard Ghilotti Motta, after he left us tragically in May of 2013 at the young age of 22. Recently, Nancy has been added as an honoree of the foundation along with her son Dino. The foundation will carry on the legacy of a young man and his mother with a passion for academics, athletics, and arts. The dg Foundation is dedicated to helping students with similar passions, by awarding scholarships to San Domenico School, Marin Catholic High School, the University of Miami, and improving art programs and facilities across the nation.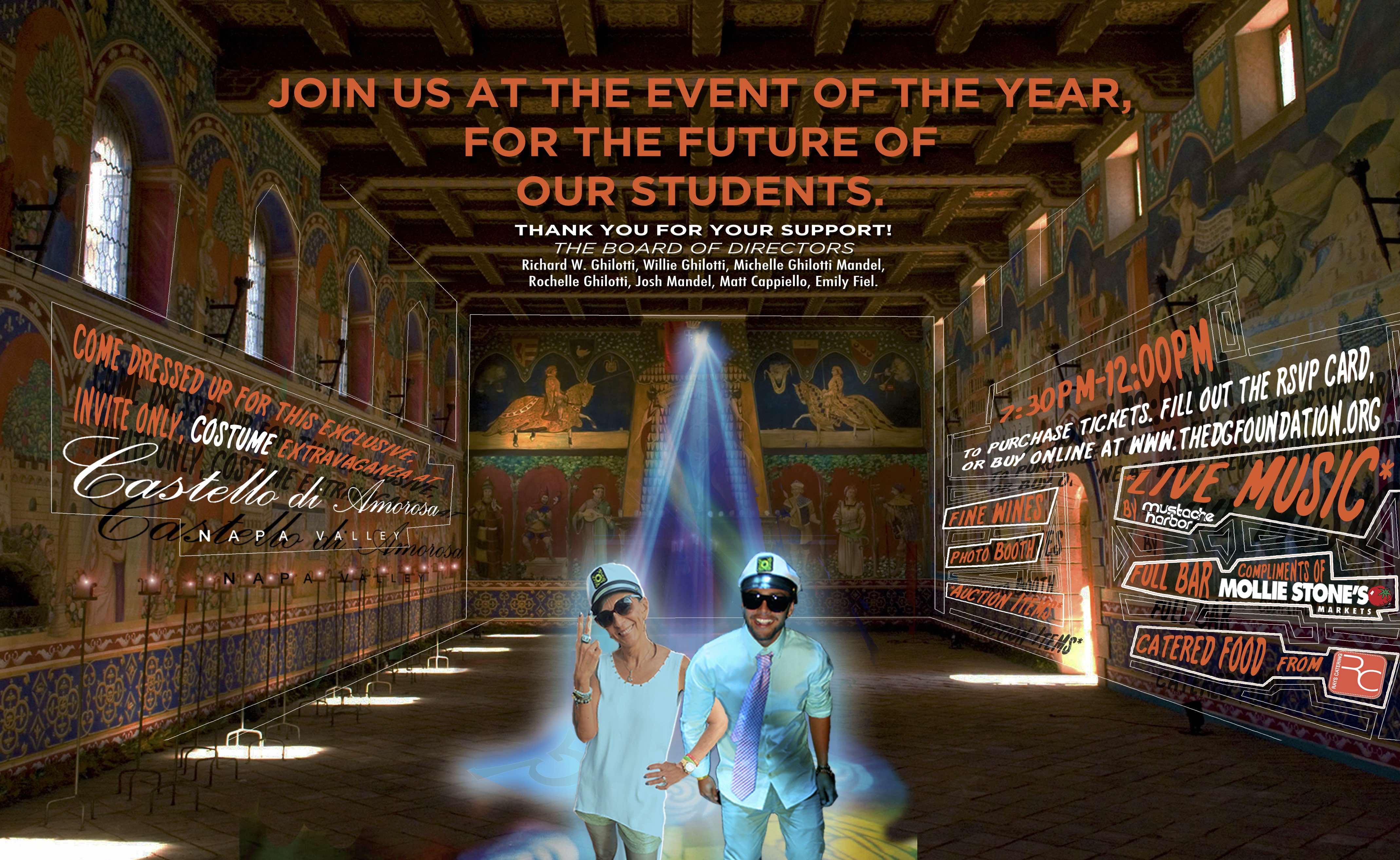 Since its inception, The dg Foundation has been specifically focused on celebrating Dino's life example by recognizing inclusiveness in academics, athletics and art. We have collaborated with multiple organizations to improve the lives of students through scholarships and facility enhancements at various schools. In 2014, the University of Miami gave out our first Dino Ghilotti Motta 'Canes Care for Canes' scholarship to an art student from California. The dg Foundation, Ghilotti Construction, and a generous group of family friends also helped fund the new Dino Ghilotti Motta Stadium complex at Marin Catholic High School. Recently, we started renovation and restoration of the art building at San Domenico School where Dino began his studies and developed his passion for art. The building will be ultimately named the Dino Ghilotti Motta Art Studio.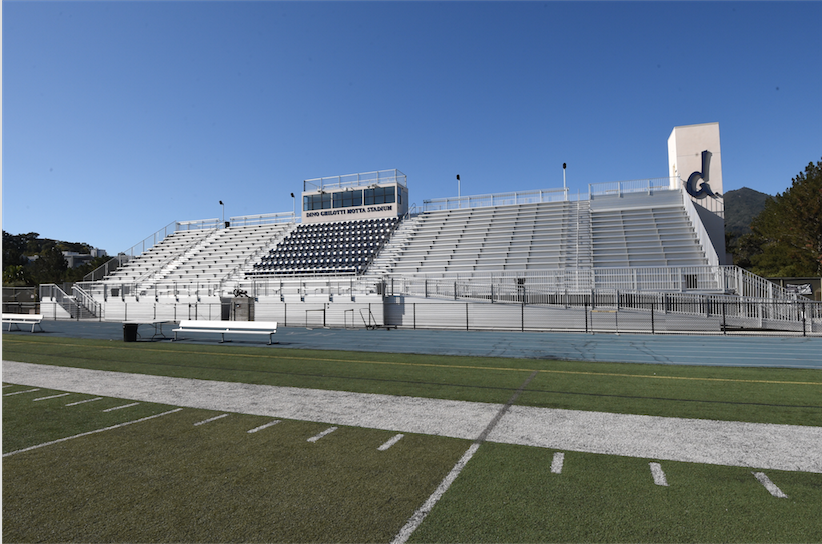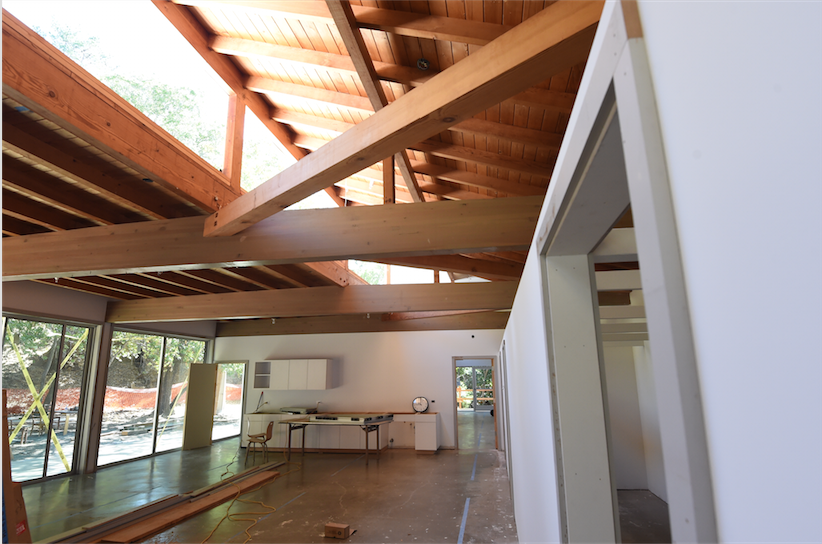 Dino was a great artist, athlete, student and a passionate friend. He was an exceedingly kind and humble young man who was open-hearted, inclusive of others, gave of himself freely and used art to express what he saw and visualized of the world. His constant desire to help his peers inspired his family and friends to carry on his legacy with this much needed foundation to help others in a similar way that Dino and Nancy would have. For this reason, The dg Foundation asks that you consider participating in this year's Orange and Blue Ball that will provide important benefits and funding to these schools and art programs in need.
THANK YOU TO OUR GENEROUS SPONSORS:
GHILOTTI CONSTRUCTION COMPANY
DRL PARTNERSHIP
PACE SUPPLY
PETERSON CAT
BODEAN COMPANY
DENNIS & SUSAN GILARDI
FIRST REPUBLIC BANK
BARRACUDA
MONTE'S CHAPEL OF THE HILLS-SAN ANSELMO
NAPA VALLEY LIMOUSINE SERVICES
JIM-N-I RENTALS
WHITNEY FUSION
SHAMROCK
HEFFERNAN INSURANCE BROKERS
EPIC INSURANCE BROKERS & CONSULTANTS
HENNESY FUNDS
MIKE BROWN ELECTRIC CO.
GCR TIRES & SERVICES
SAN FRANCISCO GIANTS
DUTRA MATERIALS
GOLDEN STATE LUMBER
HEAVY EQUIPMENT RENTALS
DEVCON
ALO YOGA
MURGA, STRANGE & CHALMERS
WOODRUFF SAWYER & COMPANY
HEADGEAR PLUS
ALTEN CONSTRUCTION
MARIN COUNTY ROOFING COMPANY
RITCHIE BROS. AUCTIONEERS
DEUTSCH & BLUMBERG P.A. LAW OFFICE
TOM ALBANESE
CLAUDE PERASSO
BRIDGESTONE
DENBESTE WATER SOLUTIONS
SIGNATURE HOMES
KEVIN & LISA GAVNEY
BOIES, SCHILLER & FLEXNER LLP
Vintage- http://vintageinn.com
6541 Washington St, Yountville
707.945.4549
10 rooms blocked
$600-700 per night.
Vineyard Country-http://www.vineyardcountryinn.com
1457 Lincoln Ave, Calistoga
707.942.6877
9 Rooms Blocked
$200-300 per night.
Mountain View/Calistoga-http://mountviewhotel.com
1006 Washington St., Calistoga
866.822.5772
10 Rooms Blocked until September 6th
$250-300 per night
Calistoga Resort Hot Springs- http://www.calistogaspa.com
2230 Madison St, Yountville
707.944.8571
12 Rooms Blocked until September 18th
$280-300 per night
Napa Valley Lodge-http://www.napavalleylodge.com
2230 Madison St, Yountville
707.944.8571
10 Rooms Blocked until September 7th
$435-525 per night
North Block Hotel- http://northblockhotel.com
6757 Washington St, Yountville
707.944.8080
5 Rooms
Sunburst Hotel- http://www.thesunburstcalistoga.com
1880 Lincoln Ave, Calistoga
707.942.0991
9 Rooms
$180-250 per night
Indian Springs Resort: http://www.indianspringscalistoga.com
1712 Lincoln Ave, Calistoga
707.942.4913
10 Rooms
Approx $319 per night
Solage: http://www.solagecalistoga.com
755 Silverado Trail, Calistoga
707.226.0800
25 Rooms
$500-650 per night
Harvest Inn: http://www.harvestinn.com
One Main St., St. Helena
707.963.9463
25 Rooms
Approx $550 per night
Embassy Suites: http://www.embassysuitesnapahotel.com
1075 California Blvd., Napa
707.320.9507
25 Rooms
Approx $299 per night
Hotel St. Helena: http://www.hotelsthelena.net
1309 Main St, St Helena
707.963.4388
18 Rooms
Wydown Hotel: http://www.wydownhotel.com
1424 Main Street, St. Helena
707.963.5100
12 Rooms
Bardessono: http://www.bardessono.com
6526 Yount St, Yountville
707.204.6000
61 Rooms
Hotel Yountville: http://www.hotelyountville.com
6462 Washington St, Yountville
707.967.7900
80 Rooms
Maison Fleurie: http://www.maisonfleurienapa.com
6529 Yount St, Yountville
800.788.0369
13 Rooms
El Bonita Motel: http://www.elbonita.com
195 Main St, St Helena
707.963.3216
5 Rooms
Best Western: http://www.stevensonmanor.com
1830 Lincoln Ave, Calistoga
707.942.1112
34 Rooms
Comfort Inn: www.comfortinn.com
1865 Lincoln Ave, Calistoga
707.942.9400
55 Rooms
Golden Haven Hot Springs: http://www.goldenhaven.com
1713 Lake St, Calistoga
707.942.8000
28 Rooms